James Beard Award-semifinalist Jonny Rhodes may be best known for his smash hit restaurant Indigo, but it's his new grocery store, Broham Fine Soul Food & Groceries, that he wanted to open first.
The 2,000-square-foot store opens April 1 at 2019 Bennington St., near the Hardy Toll Road and the 610 Loop. It will sell food targeted for individuals of African descent, almost all handmade by Rhodes and his team — and they'll teach customers how to use the more unfamiliar goods, he said. The intent is eventually for the entire stock to be either handmade or grown by Rhodes. But because the store is opening early to help people amid the coronavirus pandemic, the garden Rhodes is creating for the store's produce isn't ready yet.
Products at the store will include sodas, sauces, condiments, pastries, jellies and butter, ice creams and popsicles, deli meat, sausages and dried items like jerky, all handmade. Typical items like dill pickles and hot sauce are sold alongside more unusual fare, like okra seed coffee ice cream and fermented strawberry and grapefruit soda.
Rhodes has never been interested in selling others' goods. Over time, the store will be 100 percent self-sustainable.
"That way, we're not buying produce from local farmers; we are the local farmers for our own grocery store," Rhodes said.
Rhodes and his wife, Chana, are making the grocery store's savory goods, while pastry chef Meredith Larke is handling all sweets and baked goods.
Meanwhile, Indigo is currently closed until September, which is not unusual for the acclaimed restaurant. Rhodes actually closed the restaurant at 517 Berry Road even before Harris County ordered restaurants to close their dining rooms. He brought over his entire staff — five people — from Indigo to Broham.
"I couldn't take care of them," he said.
Rhodes isn't concerned with expansive growth, at least not right away. With the "grow its own supply" model, Rhodes says Broham is unlike any other grocery store in the country. It'll take time to get its systems in place.
"We're not a finished product, and I don't think we're looking to be a finished product any time soon," Rhodes said. "One of the favorite things about Indigo that I've loved, and I think that people loved, was that we were open about not being a finished product, but the evolution."
Rhodes hopes his store, located in the Trinity Groves neighborhood along with Indigo, sets an example for others to grow their own food. He also hopes that it cuts into the force of "food apartheid" — a term he uses instead of the food desert. He learned it from celebrity chef Marcus Samuelsson, according to a recent Texas Monthly article. It means a food shortage created by design, harking back to neighborhoods designed to disenfranchise African Americans. Growing your own food, Rhodes said, would be especially impactful now.
Houston-based Stage Stores Inc. (NYSE: SSI) had its own set of struggles even before the coronavirus pandemic brought much of the retail sector to a halt.
Now, the department store owner is taking steps to significantly scale back operations to reduce costs and preserve liquidity, according to a press release.
The stage has temporarily closed all of its 738 stores as of Friday, March 27. Previously, about 393 stores were closed in compliance with state and local regulations, while the others primarily were located in smaller markets and were operating under reduced hours.
The company operates specialty department stores under the Bealls, Goody's, Palais Royal, Peebles, and Stage brands as well as the Gordmans off-price brand.
Virtually all employees in stores, field support roles, and distribution centers have been furloughed until further notice. Effective March 29, 87 percent of employees at Stage's Houston Support Center also will be furloughed. There are 80 key employees who are not subject to the furlough because they perform essential functions, though the release did not specify what or where those roles are. Furloughed employees will not be paid, but they will keep their health and welfare benefits.
Members of the executive leadership team will temporarily have their pay reduced by at least 25 percent effective March 29, and the board of directors members will not be compensated during this period. The end of the pay-cut period has yet to be determined.
In 2018, President and CEO Michael Glazer's base salary was more than $1.04 million, and his total compensation including stock awards was over $3 million, according to the most recent proxy statement Stage filed with the U.S. Securities and Exchange Commission. The only other named officers in the proxy were Thorsten Weber, executive vice president and chief merchandising officer, and Steven Hunter, formerly executive vice president and COO of Gordmans, who left the company in July 2019, according to a separate filing. Webster received a 2018 base salary of $522,692 and total compensation of more than $1.25 million, and Hunter received a 2018 base salary of $478,461 and total compensation of $872,867. The stage has not yet filed its proxy statement with 2019 compensation.
"With the health and safety of our associates and guests as our top priority, we are taking difficult but necessary actions in a challenging market and in the face of the unprecedented COVID-19 situation," Glazer said in the March 27 press release. "We are grateful to all of our associates for their dedication and commitment to serving our guests."
The Houston Association of Realtors has been making changes to help keep the residential real estate market going amid the coronavirus outbreak while also keeping people safe.
HAR President and CEO Bob Hale spoke at a Tuesday, March 24, Harris County Commissioners Court meeting about the need to include residential and commercial real estate among the list of "essential" services exempt from Harris County's new "stay home, work smart" order. Currently, $2.4 billion of residential real estate is pending sale, with $800 million scheduled to close in the next 10 days, HAR said in a statement.
When Harris County's written order was released Tuesday afternoon, it classified real estate services among professional services that are essential "when necessary to assist in compliance with legally mandated activities or to further essential businesses, essential government functions, or critical infrastructure." Even before the order was released, HAR already was developing a platform for virtual open houses and virtual showings, per the statement. The platform would allow customers to watch the tours and open houses on HAR.com at scheduled times, and HAR members would then be able to share the recordings on their agencies' websites and social media.
"The safety of our members, their clients and families is the most important thing to us during this difficult time," HAR said.
Even before Harris County's March 24 order, HAR has been taking steps to adapt amid the pandemic. On March 20, HAR announced that information about open houses would not be displayed on HAR.com for most Texas markets, including Houston and Austin, effective immediately.
"Most of the national real estate franchises and many large brokers have either canceled all in-person open houses or are strongly encouraging their agents not to hold them," HAR said in a March 20 press release. "Realtors are urged to utilize virtual open houses and video tours to help slow the spread of the coronavirus."
Many Realtors told the Houston Business Journal last week that they were canceling open houses and opting to show their listings via apps like FaceTime and Skype. Others have begun to post video tours of properties online.
Houston Realty Advisors Inc. has a new listing available FOR LEASE in Pasadena, TX. This property is located at 906 Witter St. it's a Flex/ Warehouse/ Office Building. containing 13,450 Square Feet of Building.
For more information please contact us.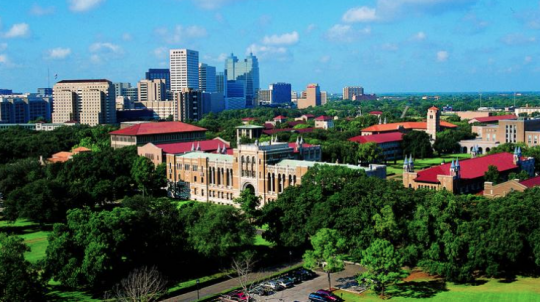 The annual Rice Business Plan Competition was canceled for 2020 due to concerns surrounding the coronavirus.
The Rice Business Plan Competition was scheduled to take place at Rice University between March 26 through 28. RBPC is one of the largest student startup competitions in the world.
"We received word Sunday evening that Rice University, with guidance from the Rice Crisis Management Committee, is prohibiting all on-campus public events and gatherings with more than 100 people to minimize close contact among large groups of people," according to a statement on the RBPC website.
Rice has canceled all classes at the university for a week citing fears of spreading the coronavirus as the cause. Conversations were had about holding the event in an alternative way, but it was found to not be possible.
"We have successfully run the competition for 19 years, and we were very excited to host and celebrate the 20th edition later this month," per the statement.