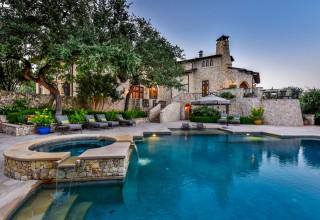 ​​​​​Elite 25sm, the premier membership organization for luxury real estate agents, has announced its expansion in Spring 2020 with the launch of chapters in Houston and Dallas, Texas. Established in 1994 and based in Austin, Texas, Elite 25sm  represents a city's top luxury residential agents, providing ample opportunities to increase exposure, bolster reputations, network with fellow top luxury agents and stay educated on real estate trends and happenings. Beyond the value for members, Elite 25sm also presents an incomparable asset for buyers and sellers, taking out the guesswork of finding an agent.
"We're excited to bring this exclusive opportunity to luxury realtors in the largest real estate markets in Texas," said Tony Trungale, Managing Director of Elite 25sm and a Senior Loan Officer with PNC Bank. "This organization has proven to be an invaluable resource for our members, allowing unmatched time and space for networking and dealmaking."
Founding Elite 25​ Austin member Cindy Goldrick of Wilson & Goldrick Realtors said of the group: "I've been a member of Elite 25sm in Austin since its inception 25 years ago and it has been an essential part of my real estate career and success. Elite 25sm membership provides individual agents recognition as verified leading producers of high-end homes and, equally important, it offers camaraderie with other top agents and the opportunity to network. I've been excited and motivated to work to meet the criteria each and every year."
Members apply on an annual basis and are chosen based solely on production numbers, ensuring a true representation of the city's top professionals. Criteria for membership varies year to year, but eligibility begins with a minimum of four homes sold each over $1 million. In 2019, each of Austin's 34 members sold at least eight homes over $1 million – a major marker of Austin's booming housing market – for a staggering collective sales total exceeding $1 billion.
"In today's fiercely competitive market, Elite 25sm is the perfect platform to provide a competitive edge for my clients," said Dara Allen, Broker Associate and Sales Manager for Compass Austin. "All members of Elite 25sm are experts in the luxury market and our monthly luncheons – always in a member's fabulous new listing – give us the opportunity to share coming soon and pocket listings."
Elite 25​ Houston and Elite 25​ Dallas will continue under the leadership of Tony Trungale, with Advisory Board members to be announced. Marketing efforts will continue to be managed by Commission.Co, a boutique Austin-based agency specializing in social media, video, and design for luxury and commercial real estate.
"Although there are a few exceptions, the real estate market in Houston is headed for another good year," said Mark Sikes, a principal with Deal Sikes. "The region's economy is healthy and although the energy industry is in a lackluster period, the overall economic outlook is outstanding."
Houston's industrial market is attracting interest from around the nation and research indicates that more than 15 million square feet of warehouse space are under construction in the Greater Houston area.
"Prices for land or urban infill development property has risen significantly in recent years," Sikes said. "Rising land prices have pushed the wave of industrial development farther away from the center of the city and outer suburban land prices have increased accordingly."
Property values in the urban core of the city remain strong as developers and builders locate buildings for redevelopment or seek sites that are appropriate for new construction, Sikes said.
"Multifamily construction is strong in Houston and researchers report more than 25,000 units are now under construction, although the pace is expected to be slightly more moderate in 2020 as the new inventory is absorbed," Sikes said. "Investor demand is good and multifamily valuations have not yet peaked in most submarkets."
Newer office buildings and Class A towers under construction are leasing briskly, although Houston's office market is the most sluggish sector.
The Texas Medical Center, where more than 100,000 people are employed, is a source of growth for Houston and several hospitals and research facilities are expanding.
"Houston's commercial real estate values will be on a solid upswing in 2019," said Matthew Deal, a principal with Deal Sikes. "With Houston expected to gain population significantly in the next decade, the long-term forecast must include rising property prices that will be very impressive over the long haul."

Cushman & Wakefield (NYSE: CWK) announced today that the firm has acquired Colvill Office Properties, a leading provider of office agency leasing services in Houston. Colvill Office Properties currently directs leasing and marketing efforts for 17 million square feet of Class-A office space in Houston.
"As one of the five largest metro areas in the U.S., Houston remains a critically important market for Cushman & Wakefield," said Andrew McDonald, President of Cushman & Wakefield's West Region. "Providing our clients with the most respected and accomplished office agency in Houston complements our investor services platform significantly in Texas. The Colvill team has a proven track record of creating exceptional value for their clients and shares our commitment to collaboration and innovation."
The Colvill Office Properties team has more than 130 collective years of experience and is a four-time recipient of the Owner's Representative of the Year award as voted by the Houston Office Leasing Broker's Association (HOLBA). The Colvill current portfolio includes more than 30 individual properties in the CBD, Energy Corridor/Katy Freeway, Galleria/Uptown, Westchase, West Belt, Springwoods and Inner Loop submarkets.
"We could not be more thrilled to join one of the world's pre-eminent commercial real estate firms," said Chip Colvill, the founder and former president/CEO of Colvill Office Properties, who joins Cushman & Wakefield as Executive Vice Chairman. "The depth and breadth of Cushman & Wakefield's global platform and the outstanding team already on the ground here in Houston will enable us to deliver even more value for our building owners, taking what we've built at Colvill over the last two decades to the next level with the Cushman & Wakefield international platform."
About Cushman & Wakefield
Cushman & Wakefield (NYSE: CWK) is a leading global real estate services firm that delivers exceptional value for real estate occupiers and owners. Cushman & Wakefield is among the largest real estate services firms with approximately 51,000 employees in 400 offices and 70 countries. In 2018, the firm had revenue of $8.2 billion across core services of property, facilities and project management, leasing, capital markets, valuation, and other services.
Lee & Associates was awarded the leasing and management of five Houston office buildings totaling 430,000 square feet in 2019.
The company's landlord agency team will lease and manage 550 Westcott (83,366 square feet); 4101 Interwood (80,000 square feet); 1505 S. Highway 6 (63,487 square feet); 16430 Park Ten Place (110,408 square feet) and 10101 Southwest Freeway (102,292 square feet).  The buildings range from Class A to Class B.
"Our recent success has been due to the depth of our team and the focus we have on technology and platforms for today's digital marketplace," Robert LaCour, Lee & Associates principal said in an announcement.
Lee & Associates added a property management group in 2019. The company specializes in commercial real estate services for office, industrial and land real estate investments
Marcus & Millichap (NYSE: MMI), a leading commercial real estate investment services firm with offices throughout the United States and Canada, has announced the sale of The Shops at Champions, a 16,112-square foot retail property located in Houston, Texas, according to Ford Noe, Regional Manager of the firm's Houston office.
Alex Wolansky and Gus Lagos, investment specialists in Marcus & Millichap's Houston office, had the exclusive listing to market the property on behalf of the seller, an individual/personal trust. The buyer, a private investor, was secured and represented by Gus Lagos.
The Shops at Champions is located at 6265 Cypress Creek Parkway in Houston, Texas.
About Marcus & Millichap (NYSE: MMI)
With nearly 2000 investment sales and financing professionals located throughout the United States and Canada, Marcus & Millichap is a leading specialist in commercial real estate investment sales, financing, research and advisory services. Founded in 1971, the firm closed 9,472 transactions in 2018 with a value of approximately $46.4 billion. Marcus & Millichap has perfected a powerful system for marketing properties that combines investment specialization, local market expertise, the industry's most comprehensive research, state-of-the-art technology, and relationships with the largest pool of qualified investors.