Worst Vacancy Since The '80s
Despite leading the nation in the percentage of workers back at their desks by one oft-cited metric, Houston's office market remained sluggish in the third quarter as an abundance of new product, limited demand and the impact of the resurgent delta variant of the coronavirus combined for a disappointing result in the quarter that was supposed to be the turning point for the better.
Madison Marquette's latest report highlights several signs of life for the sector, including slowing occupancy losses and increased tour activity suggesting some pent-up demand. But in the main, it paints the picture of continued struggle, including the seventh straight quarter of negative absorption and the highest vacancy rate since the 1980s.
Another 606K SF of office space became vacant in Q3 for a year-to-date total of 2.1M SF. With new product coming online, the vacancy rate has surged 170 basis points to 23.7% for the first nine months of 2021. According to the report, developers have delivered 653K SF of new product so far this year with an additional 2.3M SF on the way by year's end.
"As a result, direct vacancy levels are expected to climb even higher through the end of the year," the report said.
The report noted there are "increased signs of stabilization as we move into 2022," but those signs aren't making much of a dent so far. Leasing volume totaled 2.4M SF in Q3, but it still lags pre-pandemic averages from 2017-2019 by 45.8%. Tour activity is up, the report said, "but has yet to translate to notable deal volume." And though sublease availability declined for the first time since the onset of the pandemic — down 468K SF to 7.6M SF overall — the report points out that might not be a trend given employers continue to reassess and downsize office footprints.
"The full impact of hybrid and remote work strategies have not yet been felt but many occupiers are currently exploring ways to optimize their office footprint and seeking more flexible lease terms and obligations," the report noted.
The report comes as Houston jumped 8.2% in Kastle's latest Back To Work Barometer to lead the nation's metros in terms of workers back at job sites. As of late September, the keycard security company said 48.7% of Houstonians were occupying physical offices. Yet office brokers and experts at a September Bisnow event said that after ramping up during the spring and early summer months, leasing activity slowed with the approach of fall and rising cases of the delta variant, reflecting a reluctance for decision-makers to pull the trigger.
Madison Marquette said Class-A properties are bouncing back more quickly, with 550K SF in occupancy losses so far this year versus a whopping 2.6M SF in 2020.
"However, Class-B properties continue to face challenges with 1.5M SF of occupancy losses YTD as recent business contractions and a flight to quality trend continues to impact the sector," it said.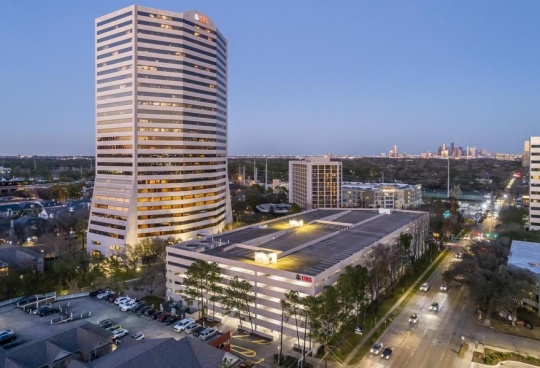 Houston Texas Medical Center has begun construction on the $1.8+  billion first phase of the 37-acre megaproject known as TMC3.
Houston's place in the U.S. and the world as a major life science cluster takes a big step forward as Texas Medical Center begins construction of the $1.8 billion first phase of a 37-acre, 6 million-square-foot life science campus known as TMC3.
Dubbed the world's largest life science campus, the TMC3 master plan was designed by Boston-based Elkus Manfredi Architects, a key player in shaping several of the leading life sciences clusters in Massachusetts.
The TMC3 project expands on the more than 60 institutions and 100,000-plus employees already located at Texas Medical Center, the largest medical center in the world. William McKeon, TMC president & CEO, said in a prepared statement TMC3 extends the medical center's collaboration to Fortune 100 life sciences companies and entrepreneurial ventures.
Phase One is backed by $1.8 billion in financing from leading life science investment and property development teams. It includes two buildings totaling 950,000 square feet—a 700,000-square-foot research facility and a 250,000-square-foot collaborative building developed by Beacon Capital Partners and their strategic partner Braidwell, a life science-focused investment firm.
---
The initial phase will also feature a hotel with more than 500 keys and 65,000 square feet of conference space; a 350-unit residential tower; more than 2,000 parking spaces and 18.7 acres of public space. Helix Gardens, part of the landscape design by Mikyoung Kim, will feature a chain of five public parks and a central garden for outdoor receptions, concerts, graduations and other large-scale events.
A promising future
Alex Karnal, co-founder & chief investment officer at Braidwell, said in a prepared statement TMC3 will be a model of how to empower an ecosystem of expertise at tremendous scale. In addition to its partnership with Beacon, Braidwell is expected to bring its expertise in making multi-stage life science investments to fuel growth of companies that will be operating on the TMC3 campus.
Noting it's an unprecedented time for life sciences and innovation in the U.S., Steve Purpura, president of life science at Beacon Capital Partners, said in prepared remarks Houston has all the factors required for explosive growth in the life sciences space. He also credited TMC with seeding innovation, building relationships with the world's largest life sciences companies and creating the infrastructure needed for long-term success.
TMC3 is expected to generate about $5.4 billion in economic growth for the state each year, including the creation of more than 23,000 new permanent jobs and about 19,000 construction jobs.
Other TMC3 campus collaborators include Majestic Realty, Transwestern Development, The University of Texas MD Anderson Cancer Center, Texas A&M University Health Science Center and University of Texas Health Science Center at Houston.

Boca Raton, Florida-based CP Group has acquired Five Post Oak Park in the Galleria/Uptown submarket in Houston.
Christie Moffat at Bisnow.com says:
The Class-A, 567K SF, 28-story office tower was built in 1982 and is located within the 43-acre Post Oak Park business park. The acquisition was completed as a joint venture, with funds managed by Miami-based Rialto Capital Management.
CP Group said in a press release that it intends to modernize the building's lobby, which will include the addition of a new coffee shop and restaurant space. There are also plans for developing an outdoor patio connecting to adjacent green space.
Five Post Oak Park is CP Group's first property in the Houston market since 2014, when it sold off Lakes on Post Oak, a three-building office development in the Galleria/Uptown submarket.
Houston's office market is one of the most challenged in the country, with a vacancy rate of about 23%, according to the latest Q2 2021 office market report from Colliers International. The energy downturn in 2020, coupled with the coronavirus pandemic, has sent the city's total vacancy rate to new highs.
CP Group Senior Vice President Brett Reese told Bisnow that the weakness of Houston's office market is precisely why the firm decided to invest in the property.
"We're buying a quality asset in a quality location with an abundance of amenities, and we believe there is a dislocation in the capital markets," Reese said. "Many buyers are not currently pursuing deals in Houston, which is creating what we feel are great opportunities."
Reese said that CP Group believes that the Galleria/Uptown submarket is the most desirable submarket in Houston, as it falls within the top 20 business districts by office square footage.
Transwestern Executive Vice President David Baker is leading Five Post Oak Park's office leasing team. The property is just over 50% leased.
Contact Christie Moffat at christie.moffat@bisnow.com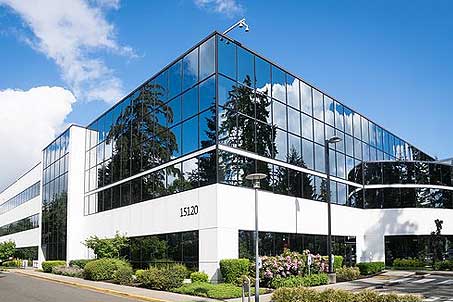 LinkedIn Corp. has just purchased the site of its global Sunnyvale headquarters campus for $323 million, a sign of its willingness to maintain a long-term presence in its home city. Seen here is the interior of one of two buildings that make up its global headquarters.
By Matthew Niksa – Commercial real estate reporter, Silicon Valley Business Journal
Jul 2, 2021
LinkedIn Corp. has just purchased the site of its global Sunnyvale headquarters — which the company was previously renting — for $323 million, a sign of its willingness to maintain a long-term presence in its home city.
In a deal that closed Thursday, the professional networking service purchased a two-building campus at 950, 1000 and 1020 W. Maude Ave. from an affiliate of Deutsche Bank, according to Santa Clara County property records. The campus contains 287,644 square feet of office and research-and-development space, according to data from commercial real estate analytics firm Reonomy, meaning LinkedIn spent about $1,122 a square foot to acquire the property.
Here is a list of the big ones for 2020: