Marcus & Millichap (NYSE: MMI), a leading commercial real estate investment services firm with offices throughout the United States and Canada, has announced the sale of The Shops at Champions, a 16,112-square foot retail property located in Houston, Texas, according to Ford Noe, Regional Manager of the firm's Houston office.
Alex Wolansky and Gus Lagos, investment specialists in Marcus & Millichap's Houston office, had the exclusive listing to market the property on behalf of the seller, an individual/personal trust. The buyer, a private investor, was secured and represented by Gus Lagos.
The Shops at Champions is located at 6265 Cypress Creek Parkway in Houston, Texas.
About Marcus & Millichap (NYSE: MMI)
With nearly 2000 investment sales and financing professionals located throughout the United States and Canada, Marcus & Millichap is a leading specialist in commercial real estate investment sales, financing, research and advisory services. Founded in 1971, the firm closed 9,472 transactions in 2018 with a value of approximately $46.4 billion. Marcus & Millichap has perfected a powerful system for marketing properties that combines investment specialization, local market expertise, the industry's most comprehensive research, state-of-the-art technology, and relationships with the largest pool of qualified investors.
A little while back, I wrote about how an emerging new category of workplace alternatives are attracting attention from both the venture community and some of the commercial real estate's biggest players.
One such company is Austin-based Swivel, which has developed an agile leasing platform and network. The startup just raised $8 million in Series A funding led by Jim Breyer of Breyer Capital (who's also backed the likes of Facebook and Spotify). Breyer is contributing $5 million of the capital. JLL Spark, the venture arm of commercial real estate brokerage giant JLL, put up the remaining $3 million. The financing brings Swivel's total raised to $14.6 million, according to its Crunchbase profile.
Swivel raised an $850,000 seed round in 2016 and then another $1 million in June 2017. In 2018, the company brought in another $4.8 million in what Swivel founder and president Scott Harmon described as a Seed 2 round.
The startup has been testing its model across Texas, mostly in Austin and some in Dallas and Houston.
"Everything seems to be proven right and working," Harmon told Crunchbase News. "So we raised this round to scale up nationwide."
How it works
Harmon founded Swivel in late 2016 with some initial incubation capital from Floodgate. He and Floodgate Co-Founder Mike Maples had started and sold a software company together in the late 1990s called Motive and decided they wanted to work together again.
They both had a passion for "simplifying the office," Harmon said and felt like the commercial real estate office market needed to be disrupted.
So how does it work? Pre-qualified member companies can contract with Swivel's landlord partners for turnkey office space on flexible terms with little or no upfront capital expenditure and no lease lock-in.
Landlords use the company's agile leasing platform to backstop their leases for member companies. (I wrote about a similar startup, Landing, recently that is focused on flexible apartment leases). Using Swivel, leases are typically a 12-month commitment with a maximum of four years.
Clients are able to use Swivel's software to configure and design the space however they want; most offices are between 3,000 and 10,000 square feet. Companies need only to give 60 to 90 days notice before moving out and they are not charged any penalties or move-out fees and don't have to deal with subleasing.
Since its network launch in 2019, Swivel has signed up over 30 landlords representing more than 150 properties across Austin, Dallas, and Houston.
What it is and what it's not
Harmon is quick to point out that unlike other flexible workspace operators such as WeWork or Knotel, Swivel is not a landlord. It does not lease space.
"We're more like a VRBO for office space," he told me. "People who own properties use our technology and platform to lease to new tenants on more flexible terms. Landlords make the money and share their profits with us."
For example, a landlord can open up two floors in a building specifically to be listed via Swivel. They can charge a (10 to 20 percent higher) price per square foot because of the flexible terms, but it will still come out to about half the cost of a co-working space, Harmon said. The swivel will completely furnish the space, and "the building becomes more valuable," according to Harmon.
"We work with hundreds of landlords," Harmon said, "and we allow them to make more money by bringing a different kind of client into their building and providing a new class of service."
Swivel is also not out to replace commercial real estate brokers, opting instead to partner with them so it saves money on marketing as well. It works out well for all involved, Harmon said.
Looking ahead
Swivel's target market is tech-enabled companies in their growth phase, which make up about half of the tenants leasing through its platform. (It works with tenants such as Dremio, Graylog, Guideline 401k, hOp, Plivo, Samcart, TalentRobot, and Verify.)
The process is a more appealing one to tech upstarts that simply prefer a more digital process in general.
"They're just used to the flexibility and that sort of convenience in other parts of their lives," Harmon said.
But Swivel has also helped a number of multinational companies that require flexibility for their satellite offices.
The company plans to use its new capital primarily to expand across the U.S. in 2020. It is in talks with landlords in Boston, New York, Northern Virginia, Charlotte, N.C., Los Angeles, Salt Lake City, Utah, Denver, and San Francisco.
"Expansion cities are a finite list and expand based on how our landlord partnerships unfold," Harmon said. "Landlord partners will determine the order and timing of opening up each market."
For his part, Breyer believes Swivel's business model is an ideal approach to help landlords be able to meet the evolving needs of tenants.
"As a VC, one of my mantras [to portfolio companies] is 'don't sign anything longer than two years,' " Breyer told me. "Real estate hasn't kept up with that, as the leasing business hasn't yet been tech-enabled, particularly in very important markets, like Silicon Valley and Austin."
In general, he also believes flexible leases will become more and more important in general given workforce needs.
"The next generation thinks about flexibility first and foremost," Breyer told me. "Swivel gives landlords the opportunity to attract the tenants of the future."
Scheduled for completion in spring 2022, the Hewlett Packard Enterprise development will consist of two 5-story buildings located at the southwest corner of East Mossy Oaks Road and Lake Plaza Drive and include 440,000 SF of rentable space.
Located in Spring, this development will house the fourth major corporation to choose CityPlace at Springwoods Village, joining HP Inc., Southwestern Energy and the American Bureau of Shipping.
"Breaking ground on HPE's campus is another major milestone reinforcing CityPlace as the most important and vibrant, 18-hour mixed-use destination in north Houston," said Robert Fields, President, and CEO of Patrinely Group, the managing partner of the joint venture. "2019 was a significant year with the opening of ABS headquarters, the HP Inc. campus, Star Cinema Grill, 24 Hour Fitness, and two Class A multi-tenant buildings, CityPlace 1 and 1401 Lake Plaza Drive."
Pickard Chilton is the design architect; Kirksey is the executive architect; REES is the interior architect; D.E. Harvey Builders is the general contractor. Ronnie Deyo, John Roberts and Beau Bellow of JLL represented Hewlett Packard Enterprises. Dennis Tarro of Patrinely Group, and Chrissy Wilson and Russell Hodges of JLL represented the landlord.
The project will have a parking garage with 2,055 spaces.
CityPlace is a 60-acre mixed-use development providing the growing area along the Grand Parkway corridor near the 3 million-SF Exxon Mobil campus.
When fully developed, the project will include a full-service Houston CityPlace Marriott, 8 million SF of Class A office space with 500,000 SF of retail space and multifamily projects.
The development's five to 10-story Class A office buildings will offer parking at a ratio of up to 4.5 cars per 1,000 rentable square feet, with spaces located in all structured parking.
CityPlace is the commercial center of Springwoods Village, a 2,000-acre master-planned community, 20 miles north of downtown Houston.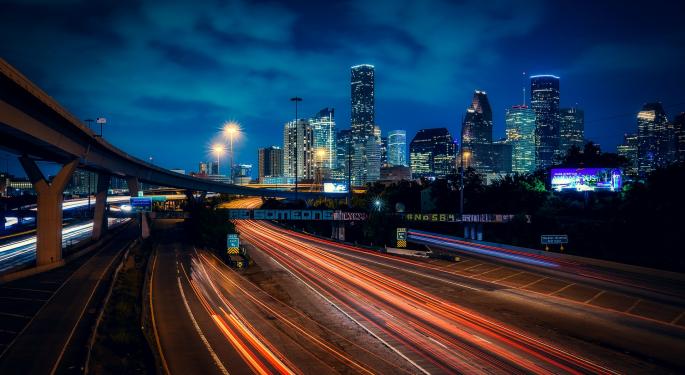 Atlanta-based Stonemont Financial Group recently launched phase one of its 540-acre Southwest International Gateway Business Park in El Campo, Texas, around 60 miles southwest of Houston.
"We have officially closed on the land and completed all of our designs, and we're in the process of breaking ground as we speak," Stonemont Financial CEO Zack Markwell told FreightWaves during an interview Wednesday.
The new park, which could house up to 8 million square feet of industrial space, is located along Interstate 69, almost midway between Houston and San Antonio, and about 200 miles from the U.S.-Mexico border.
The first phase of construction will include two warehouses: a 125,000-square-foot distribution center and a 200,000-square-foot speculative warehouse. The park will have full intermodal and transload capabilities once completed in 12 to 15 months, according to Stonemont officials.
Vitro Chemicals, a subsidiary of Monterrey, Mexico-based Vitro, has already signed on as a tenant for the 125,000-square-foot distribution center. Vitro is one of the largest glass manufacturers in the world.
Markwell said another reason they picked El Campo was to capitalize on its location along the Kansas City Southern Railway NYSEKCS.
"We have been working with KCS for the last four to five years in finding the optimal location where we had frontage on their line and then also frontage on I-69," Markwell said. "All of that is a very strategic location to the Houston market, but also the important markets of San Antonio, Austin, and Dallas."
KCS's major hubs include Kansas City, Missouri; Shreveport, Louisiana; New Orleans; Dallas; and Houston. KCS's Mexico-based affiliate, Kansas City Southern de México (KCSM), operates across northeastern, central, southeast-central and southwest-central Mexico.
Markwell said by connecting the new industrial park to the KCS rail line, Mexico-based manufacturers can use KCS for cross-border shipping from their factories in Mexico, all the way to the park, and closer to major distribution centers in Houston, San Antonio, and Dallas.
Tenants will also benefit from customs preclearance that enables users to bypass rail and highway backups at the border crossing, as well as avoid backlogs of truck and rail traffic at existing regional parks and ports closer to the congested Houston metro area.
"Our manufacturers in Mexico are moving the border north — if you think about it that way — where they are coming from Mexico, coming to Laredo today and then breaking down and either drawing from that point or staying on and switching carriers and going throughout the United States and distributing back into Texas," Markwell said. "What we're doing is moving that border north to just 62 miles outside of Houston and serving it from that point."
The park will also be part of a Foreign Trade Zone (FTZ), with additional local and state economic incentives available for tenants.
Ridgeline Property Group, an Atlanta-based commercial real estate development firm, is partnering with Stonemont to develop Southwest International Gateway, Business Park.
Pittsburg, Kansas-based Watco Companies will operate the short line railroad connecting the buildings to the KCS mainline. Houston-based NAI Partners will oversee leasing at the park.

Sempra LNG has subleased 66,772 SF at 1500 Post Oak Blvd., an office tower in Uptown Houston.  Paul Penland and Graham Horton with CBRE Houston were brokers for the subtenant. Tim Relyea and Morgan Relyea Colt with Cushman & Wakefield of Texas, Inc. were brokers for the sublandlord, BHP.
……………………………………………………
HaiDiLao Hotpot has leased 6,295 SF of restaurant space in Katy Grand at Interstate 10 and the Grand Parkway/TX 99, Houston, from NewQuest Properties. Heather Nguyen and Rebecca Le of NewQuest represented the landlord. Pierre Yu, an independent Houston broker, represented the tenant.
……………………………………………………
Lee & Associates – Houston represented Southern Star Buske, LLC in the sale of 18 acres on Conroe Park West Drive in Conroe. Mike Spears and Trey Erwin of Lee & Associates – Houston represented the buyer.
………………………………………………………
Bk Yale, Ltd. sold an 8,200 SF office on 0.54 acre to Cedar Street Partners, LP, 204 W. 19th St., Houston. Scott Carter with CBRE Houston was the buyer's representative and Matthew Berry and Robbie Kilcrease, also with CBRE Houston, where the seller's representatives.
……………………………………………………….
Pearland Group Investments has purchased 6.15 acres at 14923 Hooper Road, Pearland, from Thao Hoang. Brad LyBrand of NewQuest Properties represented the seller. Steve Dome of Marathon Realty Advisors represented the buyer.
………………………………………………………
Othon, Inc. has obtained a new 13,761 SF office lease at 575 North Dairy Ashford in Houston. The tenant's brokers were Gary Lawless and Dustin Cruz with Cresa. Steve Rocher and Kristen Rabel with CBRE in Houston represented the landlord, I-10 EC Corridor #2 Limited Partnership.
……………………..…………………………………
Lee & Associates – Houston represented Williams Brothers Construction Company in the sale of 15.32 acres on Highway 90 in Houston. Frank Blackwood and Trey Erwin of Lee & Associates – Houston represented the seller and Stephen Schneidau with Cushman & Wakefield Houston represented the buyer, IDEA Public Schools.
…………………………………………….
ACF Pyrotechnic, LLC, secured a lease for 13,010 SF of industrial space at 2413 South Houston in Pasadena, Texas. Doc Perrier with Finial Group represented the tenant.
……………………………………………..
Holman Fenwick WillianUSA has renewed an office lease for 21,074 SF at 5151 San Felipe in Houston and plans to expand. Drew Morris and Jim Bell with Savills were brokers for the tenant.  Jason Presley and Warren Savery with CBRE in Houston represented the landlord, Granite Barnhart Sage Plaza, LP.
………………………………………………
Global development and construction firm Skanska has announced that its new Bank of America Tower in downtown Houston received a three-star rating from Fitwel, a certification system for optimizing building design and operations to support human health and well-being.
……………………………………………….
Chemical & Engineering, Inc. has renewed an office lease for 8,813 SF at 2100 Space Park Drive in Houston. Missy Downey with CBRE in Houston represented the tenant while Ace Schameus and Jenny Seckinger with Colliers were brokers for the landlord, TechTrans International, Inc.
………………………………………………..
The Woodlands-based adWhite Marketing & Design has relocated its headquarters to the Magnolia Crossing development in Magnolia, Texas. Lease negotiations were handled by Newcor Commercial Real Estate. Ryan Dierker and Matt Gonzales of Newcor represented the tenant with the acquisition of 1,521 SF of office space at 33300 Egypt Lane.
…………………………………………………
HRD Interests, LLC,  purchased an 11,187 SF structure on .72 acre at 2409 Airline Drive, Houston, from Sam A. Messina, trustee of the Lillie G. Messina Exempt Bypass Trust. Chris Dray and Alex Wright of NewQuest Properties represented the buyer. Pam Messina of Messina Properties represented the seller.
……………………………………………………..
Newmark Knight Frank has been involved in a number of recent real estate transactions, including the following four in Houston:
Owens & Minor Distribution, Inc. has renewed a 124,044 SF industrial lease at the Owens & Minor Building, 2700 Brittmoore Road. Jim Cooksey and Adam Faulk of NKF were agents for the tenant. Outside agents came from Stream Realty Partners and G&I IX Kempwood, LLC, the landlord for the property.
Interface EAP has extended its office lease for 5,017 SF at 2424 Wilcrest Drive. Greg Marconi of NKFwas an agent for the tenant. LandPark Commercial's agents were also involved. The landlord is Sunblossom Wilcrest 2424, LLC.
Derby Management, LLC has obtained an office sublease for 4,337 SF at 675 Bering Drive. Philip Price of NKF as an agent for the tenant. Representatives from Cushman & Wakefield were also involved. The landlord is Encino Energy, LLC.
Evergreen Shipping Agency (America) Corporation has extended its office lease for 1,451 SF at West Loop I, 6565 West Loop South in Bellaire. Garrison Efird was the NKF agent for the tenant. Others from Pacific Oak Capital Advisors and PM Realty Group were also involved. The landlord is Keppel-KBS West Loop I and II, Inc.
………………………………………………………
HSF Affiliates, LLC, has renewed its lease for 5,686 SF at 11000 Richmond Ave., Houston. Ashley Casterlin with Davis Commercial was a broker for the tenant. Kristen Rabel, Steve Rocher and Nina Seyyedin with CBRE in Houston represented the landlord, Woodbranch 11000 LLC.
……………………………………………………….
JLL Capital Markets announced it arranged a $20 million refinancing for Sam Houston Crossing II, a 160,000 SF office property in northwest Houston.JLL worked on behalf of the borrower, Buchanan Street Partners, to secure the five-year, 4.0% loan with East West Bank. The JLL Capital Markets team representing the borrower was led by John Ream and Laura Sellingsloh.
………………………………………………….
Parsons Mcentire McCleary, PLC, has renewed its office lease for 6,473 SF at One Riverway, Houston. Jim Bailey at Cushman & Wakefield represented the tenant. Kristen Rabel, Parker Duffie and Marilyn Guion with CBRE in Houston represented the landlord, Riverway Holdings, LP, South Post Oak.
…………………………………………………….
Hackbarth Delivery Service, Inc. has obtained an industrial lease for 49,701 SF at 1350 Salford Drive, Houston, for its new location. Harper Gully with CBRE in Houston was a broker for the tenant. Ed Bane with Bridge Commercial Real Estate was a broker for the landlord, Stonelake Capital Partners.
………………………………………………………..
Cornil-Rowan Houston Ltd. sold a 29,250 SF industrial property on 2.31 acres at 300 Bammel Westfield in Houston to Archway Properties, LP. Bill Rudolf and Kyle Golding with CBRE Houston were the seller's representatives. The buyer represented themselves.
……………………………………………………
Lee & Associates – Houston represented Nazar Invest, Inc. in the sale of a 7,000 SF of industrial property at 15015 Fondren Road in Missouri City, Texas. Preston Yaggi and Cameron Hicks of Lee & Associates – Houston represented the seller and Brett Dishman with Boyd Commercial, LLC, represented the buyer, Jacob Ponniah.
……………………………………..
Ravago Americas, LLC, sold 220,000 SF of industrial property on 175 acres at 18314 Mathis Road in Waller, Texas, to LHG Real Estate, LLC. The seller's representative was Jim Stark with CBRE Houston.
………………………………………………….
Coca-Cola Southwest Beverages, LLC, sold 69,908 SF of property on 6.4 acres at 5800 Surrey Square in Houston to Industrial Fabrics, Inc.
The seller's representatives were Brendan Lynch, Darin Gosda and Glynn Mireles with CBRE in Houston.
…………………………………………………………
The Nancy Davis Kimbrell Trust sold 9.34 acres of land on Karalis Road in Houston to The Square. Darin Gosda with CBRE Houston was the seller's representative. The buyer's representative was Srini Gogineni with Prime Gain Realty. CBRE also handled the sale of nearly 10 acres to an adjacent ownership group.
…………………………………………………………
Partners recently arranged a 13,817 SF office lease renewal for planned expansion at Advance Energy Partners, LLC, 11490 Westheimer Road in Houston, Partners' Dan Boyles represented the tenant while the landlord, Hertz Westchase Park Plaza, was represented by Kurt Kistler at Moody Rambin.
…………………………………………………………
Panjwani Energy Properties, LLC, has purchased a 0.43-acre tract at 5410 Laird St., Houston, from Little Gear LLC. Chris Dray of NewQuest Properties represented the landlord in the direct deal.
………………………………………………………..
Quail Corner, LLC, sold 7.61 acres of retail property at 2120 Texas Parkway in Missouri Center, Texas, to JTRE Holdings, LLC, which plans to redevelop the shopping center. Buyer representatives were Brian Ashby and Sydney Dixon with CBRE Houston.
………………………………………………………….
Phenix Salon Suites has obtained a new lease for 6,950 SF at 947 Gessner in Houston. Brian Ashby and Sydney Dixon with CBRE Houston represented the tenant. Brooks Shanklin with Edge Realty Partners represented the landlord, Blex Exchange, LP.
 …………………………………………………….
Real Estate Transactions Elsewhere in Texas
NAI Partners Austin recently arranged a 2.78-acre land purchase for Spark Root Development & Construction at 8534 S. Congress Ave. in Austin. NAI Partners' Troy Martin represented the buyer. Joe Willie McAllister of McAllister & Association represented the seller.
…………………………………………………
NAI Partners San Antonio recently arranged the sale of more than 350 acres across two transactions. In the first, NAI Partners' Brett Lum represented the seller in a 93.244-acre sale for SA Round Rock, LLC, at Green Valley Road in Cibolo, Texas. In the second, Partners' Brett Lum and Carlos Marquez represented the buyer in a 260.22-acre sale for Oelkers at Country Road 445 in Hallettsville, Texas.
…………………………………………………….
Angela Chen, an associate in the retail division at Henry S. Miller Brokerage, and Jim Turano, an executive in the Office division, represented Walnut Hill McArthur, LLC, in the purchase of a 19,952 SF, one-story office building at 1320 West Walnut Hill in Irving. Tyler Maner and Tim Terrell with Stream Realty represented the seller, Walnut Hill Property, LP.  The buyer is an acupuncturist and plans to convert the building into a comprehensive and integrative alternative medical center.