Houston-based Whitestone REIT (NYSE: WSR) announced April 19 it plans to buy Blvd Place, a mixed-use development in Houston's Galleria area, and build an additional phase.
The real estate investment trust also announced it would buy Eldorado Plaza in the Dallas area in a separate transaction. Combined, Whitestone is spending $204.6 million on the two deals, which are expected to close in May.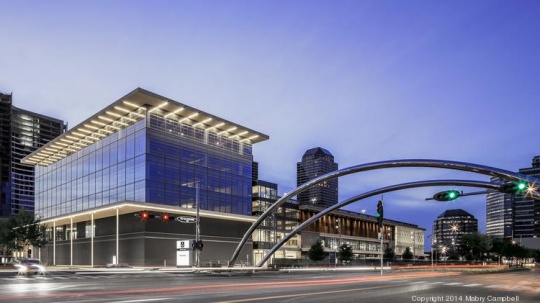 Blvd Place is a Class A lifestyle center with 216,944 square feet of leasable space in the Galleria area.  Whitestone also acquired approximately 1.43 acres of developable land, where the REIT will build another phase of the development.
Blvd Phase II-B will be a six-story, 137,000-square-foot building, including 46,000 square feet of retail space on the first two floors and 91,000 square feet of office space on the top four floors. Whitestone expects the project to cost $45 million, but information about the construction timeline was not included in the announcement.
Houston-based Wulfe & Co. developed the first two phases of Blvd Place along Post Oak Boulevard near the southwest corner of the San Felipe Street intersection near the Galleria.  The second phase — which includes a Whole Foods Market and the regional headquarters for Frost Bank — opened in 2014 and won the Houston Business Journal's 2015 Landmark Award in the Mixed-Use Project category.
In 2012, Houston-based Apache Corp. (NYSE: APA) bought 6.4 acres in between the first two phases of Blvd Place. That deal was a finalist for a 2013 Landmark Award, but the company has yet to begin developing the land. In 2015, permits were approved for the company's new tower, but Apache later extended its nearby lease through December 2019.
In late 2015, CEO Ed Wulfe told the HBJ he hoped to kick off the third phase of Blvd Place, which was was expected to be two levels of retail and four levels of office. That phase was expected to be behind the existing buildings along Post Oak in the Galleria area.
The existing Blvd Place development is 99 percent leased in the galleria area. Whitestone plans to fund a portion of the acquisition with $80 million of asset-level mortgage financing. However, the REIT is still negotiating terms with potential lenders and does not have any binding commitment letter or definitive loan documents yet.
Also on April 19, Whitestone announced a public offering of 8.1 million common shares, which is related to the Blvd Place and Eldorado Plaza deals. The proceeds will allow Whitestone's operating partnership to repay a portion of the debt under the REIT's unsecured revolving credit facility, which then will be available to fund a portion of the deals.
The underwriters will have a 30-day option to purchase up to an additional 1.2 million shares. SunTrust Robinson Humphrey Inc. is the book-running manager of the offering. BMO Capital Markets and JMP Securities are also acting as book-running managers. Wunderlich Securities, J.J.B. Hilliard, W.L. Lyons LLC, Janney Montgomery Scott, Ladenburg Thalmann and Maxim Group LLC are acting as co-managers for the offering.
Eldorado Plaza is in McKinney, Texas, and contains 221,577 square feet of leasable space. Whitestone has the option to purchase an additional 1.86 acres of developable land, where the REIT could build 24,000 square feet of additional space in the Galleria. Eldorado Plaza is 97 percent leased.
https://www.bizjournals.com/houston/news/2017/04/19/houstons-blvd-place-mixed-use-development-sold-to.html