Houston-based Whitestone REIT (NYSE: WSR) announced April 19 it plans to buy Blvd Place, a mixed-use development in Houston's Galleria area, and build an additional phase.
The real estate investment trust also announced it would buy Eldorado Plaza in the Dallas area in a separate transaction. Combined, Whitestone is spending $204.6 million on the two deals, which are expected to close in May.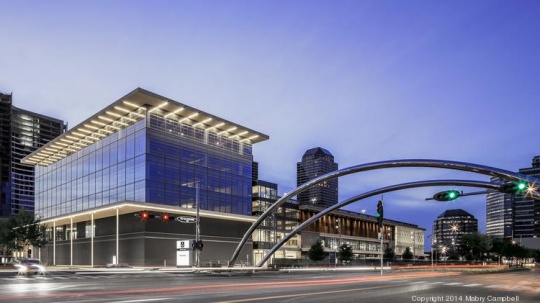 Blvd Place is a Class A lifestyle center with 216,944 square feet of leasable space in the Galleria area.  Whitestone also acquired approximately 1.43 acres of developable land, where the REIT will build another phase of the development.
Blvd Phase II-B will be a six-story, 137,000-square-foot building, including 46,000 square feet of retail space on the first two floors and 91,000 square feet of office space on the top four floors. Whitestone expects the project to cost $45 million, but information about the construction timeline was not included in the announcement.
Houston-based Wulfe & Co. developed the first two phases of Blvd Place along Post Oak Boulevard near the southwest corner of the San Felipe Street intersection near the Galleria.  The second phase — which includes a Whole Foods Market and the regional headquarters for Frost Bank — opened in 2014 and won the Houston Business Journal's 2015 Landmark Award in the Mixed-Use Project category.
In 2012, Houston-based Apache Corp. (NYSE: APA) bought 6.4 acres in between the first two phases of Blvd Place. That deal was a finalist for a 2013 Landmark Award, but the company has yet to begin developing the land. In 2015, permits were approved for the company's new tower, but Apache later extended its nearby lease through December 2019.
In late 2015, CEO Ed Wulfe told the HBJ he hoped to kick off the third phase of Blvd Place, which was was expected to be two levels of retail and four levels of office. That phase was expected to be behind the existing buildings along Post Oak in the Galleria area.
The existing Blvd Place development is 99 percent leased in the galleria area. Whitestone plans to fund a portion of the acquisition with $80 million of asset-level mortgage financing. However, the REIT is still negotiating terms with potential lenders and does not have any binding commitment letter or definitive loan documents yet.
Also on April 19, Whitestone announced a public offering of 8.1 million common shares, which is related to the Blvd Place and Eldorado Plaza deals. The proceeds will allow Whitestone's operating partnership to repay a portion of the debt under the REIT's unsecured revolving credit facility, which then will be available to fund a portion of the deals.
The underwriters will have a 30-day option to purchase up to an additional 1.2 million shares. SunTrust Robinson Humphrey Inc. is the book-running manager of the offering. BMO Capital Markets and JMP Securities are also acting as book-running managers. Wunderlich Securities, J.J.B. Hilliard, W.L. Lyons LLC, Janney Montgomery Scott, Ladenburg Thalmann and Maxim Group LLC are acting as co-managers for the offering.
Eldorado Plaza is in McKinney, Texas, and contains 221,577 square feet of leasable space. Whitestone has the option to purchase an additional 1.86 acres of developable land, where the REIT could build 24,000 square feet of additional space in the Galleria. Eldorado Plaza is 97 percent leased.
https://www.bizjournals.com/houston/news/2017/04/19/houstons-blvd-place-mixed-use-development-sold-to.html
Houston-based Hines announced March 30 it acquired the Underwood Distribution Center, an industrial park in La Porte, from BlackRock for an undisclosed amount.
The Class A park currently has five buildings totaling 2.2 million feet, which are 100 percent leased, and three development parcels. Current tenants include CRC, DNow, GIS, Northern Safety, Packwell, PolyOne and others, according to a statement from Hines.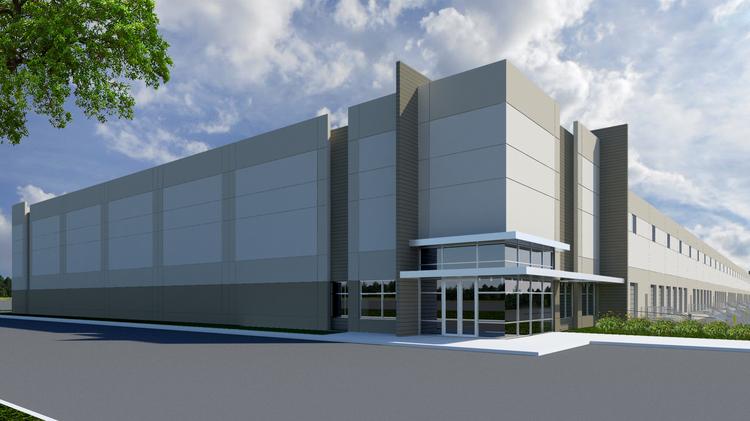 Hines will rebrand the park as Independence Logistics Park and begin developing Building 6. The 167,000-square-foot front-load distribution building is expected to be complete in the fourth quarter of this year.
Randy Baird, Judd Clements and Jim Foreman of Cushman Wakefield represented BlackRock. Hines has renewed the leasing assignment for the park with Billy Gold, Gray Gilbert and Jeff Everist at CBRE.
With the acquisition of the park near the Port of Houston, Hines now has industrial parks in three corners of Houston. The developer broke ground on Beltway Southwest Business Park in 2015 and opened the southwest Houston park in 2016. A few years earlier, Hines partnered with New York-based investment firm Kohlberg Kravis Roberts & Company LP (NYSE: KKR) and Houston-based Pinto Realty Partners to develop Pinto Business Park in northwest Houston.
"We have been targeting the southeast market for some time, and this opportunity presented a good match for our recently expanded industrial investment platform," Palmer Letzerich, Hines senior managing director, said in a press release. "We are excited to anchor our presence in the submarket with this large scale distribution park. Now rebranded as Independence Logistics Park, we look forward to putting our Hines brand of stewardship and management on the park and expanding with our new building and working with the CBRE team on leasing."
For more information regarding this property contact Houston Realty Advisor's to get a fair quote on this property today.
HOUSTON- Skanska announced Wednesday in a press release that that it will start construction on Capitol Tower, a 35-story office development in downtown Houston, after reaching a lease agreement with Bank of America.Bank of America leased 210,000 SF and it expects to move into the new building in first half of 2019. JLL represented Bank of America.CBRE represented Skanska, which announced several years ago its plans to build a 35-story office tower on the site, a block bounded by Capitol, Rusk, Milam and Travis streets.
In recent weeks, several large construction cranes have been erected on the site, indicating that Skanska was ready to start. The foundation for the new tower was poured in August 2015 and a parking garage has been built on the site. In October of 2014, the 18-story Houston Club building was demolished to make room for Skanska's Capitol Tower, 800 Capitol.The tower, designed by architectural firm Gensler, offers 754,000 SF of office space and an expansive, two-level atrium that features more than 26,000 SF of retail and restaurant space.For years, Bank of America has been the anchor of the Bank of America Center, a tower developed by Hines at 700 Louisiana."Houston is an important growth market for Bank of America," said Hong Ogle, Houston President, Bank of America. "We are pleased to be the anchor tenant at the tower, giving us the opportunity to co-locate our Merrill Lynch, U.S. Trust, Global Banking & Markets, Retail and Home Loans teams so we can have stronger collaboration in better serving our clients while ensuring responsible growth to our company."Last fall, Skanska engaged the CBRE real estate firm to find tenants even as the Houston office market showed signs of weakness.  Downtown has a significant amount of vacant space and sublease space.
Houston has the highest office vacancy rate (21.5 percent) in the nation, according to a recent report by Marcus & Millichap.
Houston recorded almost 800,000-SF of negative absorption in the first quarter, says NAI Partners.
Business and community leaders recently gathered to celebrate West Houston's growth and newly completed "missing mile" of Park Row, at an event hosted by Wolff Companies and The Energy Corridor District.
Park Row, a four-lane major thoroughfare that runs parallel to the Katy Freeway (I-10), now stretches continuously from Dairy Ashford Road at I-10 to the City of Katy. The new segment, which connects Dairy Ashford to the Addicks Park and Ride, broke ground in 2013 and was opened to traffic earlier this month. The road provides an important alternative route to the Katy Freeway and the new segment will open up public transportation options for those who work, live and play in The Energy Corridor.
Park Row is home to some of the largest corporate headquarters in Houston, including ConocoPhillips, Worley Parsons and Mustang Wood Group. More recently, it has become a new address for some of the city's best medical institutions – such as Texas Children's Hospital and Houston Methodist, who owns land on both sides of Park Row in Wolff Companies' Ten Oaks, and The University of Texas MD Anderson Cancer Center, who owns land on both sides of Park Row in Wolff Companies' Central Park.
"The completion of Park Row not only represents a dramatic improvement in transportation in West Houston but also Houston's can-do attitude. This was a very complicated project which required many different businesses, organizations and governmental entities to work together to ultimately increase economic activity and quality of life," said David S. Wolff, Chairman and President of Wolff Companies. "We are celebrating more than the completion of an important thoroughfare which has become one of the best business addresses in Houston, we are celebrating the collaborative spirit that built both this road and West Houston."
Highlighting the event was an all-star panel of business and government leaders – key architects of the West Houston community – who praised the public-private partnerships that have been vital to West Houston's past and continued growth. With David Wolff serving as moderator, panelists were William Burge, president of Ayrshire Corporation and Chairman of the Grand Parkway Association; Larry Johnson, President and CEO of Johnson Development Corporation; Matt Khourie, CEO of Trammel Crow Company; Carl Sewell, Chairman of Sewell Automotive Companies; and the Hon. Jon Lindsay, former Texas Senate Senator and former Harris County Judge.
From left to right: Moderator David S. Wolff moderates a panel discussion with William Burge, Jon Lindsay, Larry Johnson, Matt Khourie and Carl Sewell. Photos courtesy of The Energy Corridor District.
"We brought together leaders in the West Houston community who represented a variety of sectors – housing, office, land development, retail and government. They represent a larger body of leaders who have worked together to make West Houston what it is and who will continue to collaborate to ensure West Houston's continued growth and success," said Carolyn Wolff Dorros, Executive Vice President of Wolff Companies.
David S. Wolff, far right, with Michael G. Wyatt, Managing Director of Core Real Estate, Aaron Thielhorn, Managing Director of Trammell Crow Company and Edward Griffin, President of Griffin Properties.
The panelists unanimously listed excellent schools, high-quality and affordable housing and jobs as the essential ingredients that fostered the growth of West Houston.
Reflecting on West Houston's success, Khourie said, "The evolution of quality in West Houston is noteworthy. Developers along I-10 have upped their game with projects built to last. Continued investment in schools and healthcare will be catalysts for continued growth." Sewell, who recently transformed an older property in The Energy Corridor into an elite Mercedes-Benz dealership campus concurred, "Where you have great school districts, you have great development."
Commenting on priorities for the future, Johnson, Lindsay and other panelists agreed that drainage improvements should be at the top of the list.
Asked what West Houston might look like in 25 to 50 years, Burge quipped, "We'll be in San Antonio by then, but you will always see the initial footprint by people like David Wolff and many others who came here when there was nothing but rice fields."
The event brought together real estate, industry sector and community leaders who share a common bond: build a better West Houston.
The first segment of Park Row was developed in the 1970s in Park Ten by Wolff, who envisioned the need for an alternate route to the Katy Freeway. The newly opened "missing mile" segment included the design and construction of Park Row from the intersection of the I-10 HOV/Tollroad access ramp at the Addicks Park & Ride lot to the thoroughfare's existing terminus just west of the intersection of North Eldridge Parkway; a four-lane bridge over Langham Creek; water, sanitary sewer and storm water drainage infrastructure; and street lighting and landscaping. The two-phase project was facilitated by a public/private venture between The Energy Corridor Management District and the City of Houston.
About Wolff Companies
Now in its fifth decade, Wolff Companies has been a leader in developing master-planned, mixed-use business communities in the Houston area. The company's developments include: Beltway ; Park 10; Interwood; Westway Park; First Crossing; Ten Oaks at the Texas Medical Center – West Campus and Central Park . The American Society of Landscape Architects, Scenic Houston, Keep America Beautiful, the American Institute of Architects and the Municipal Art Commission have all recognized Wolff Companies' developments for enhancing and preserving the natural beauty of land, while meeting the ever-changing needs of business. For more information, please visit www.wolffcompanies.com.